One thing that fascinates me, is that just like fashion and furniture designs can fix a setting to a certain point in time, details like window designs and heating devices may tell what part of the world it is (in this case, Sweden).
The young lady's dress is better visible on the European fashion page ("early Victorian ballgown"). High fashion has been international at least since the middle ages!
---
The roombox
I built the shell from 2 mm plywood, but built up the inside of the left wall with 3 mm (1/8") thick balsa, so I could make a window recess. The window helps light the interior, and I think it's does a lot for the room. I scratch-built the window from thin stripwood and clear plastic, to get a casement window like the ones traditionally used here - the windows available in model railroad stores all seem to be of the sliding sash type!
The exterior is based on mid-19th century houses in Stockholm. It would be fun to make additional roomboxes to represent different rooms, and so that they would fit together to show an entire flat, servants' quarters and all.
Furniture
My directions for making the bed and wardrobe were published in LEN volume 6, issue 2. I'm glad that I finally got to use them in a room setting! I made the commode much later, in the summer of 2005 when I was working on this room.
My directions for the chest of drawers (really too plain for this room) appeared in the Swedish magazine Miniatyrvärlden in 2005. The stool with curved legs is my own experiment based on a method taught by Frances Armstrong in one of her 1:144 scale kits.
The potted fern is made from feathers that I cut to shape, painted and curled.
Textiles
The curtain tie-backs are made from twisted DMC floss, held in place by a pin with a glued on metal finding. The "embossed metal" cornice is actually a craft store soft metal "wedding ring" that I straightened out.
There's a nightgown on the bed, for the young lady to put on when she gets back home from the ball. I draped it over a block of wood covered with plastic wrap, and lightly glued it in place when it was dry (so I can change my mind later).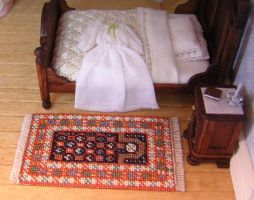 The bedside rug is my own design based on a mid-19th century Leshgi prayer rug. You can download the pattern chart in the DIY projects section.
Lighting and heating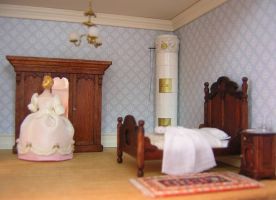 I set the room in an era when Stockholm homes had started to get gas lighting, so the room is supposed to be lit by this gas chandelier. It's made from plastic beads, wire, metal findings, shapes punched from card, and some craft sand. There's also a "silver" chamber candlestick on the commode.
At this time, all town homes would be heated with tiled stoves. If you'd like to read more about tiled stoves, visit the Gustavian house page.