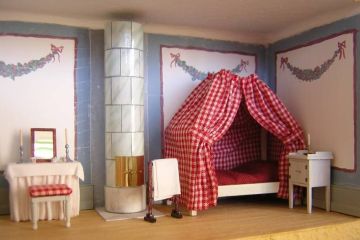 1:48 scale Gustavian house, cirka 1790
This is one of my very first miniature houses. I settled on Gustavian style for several reasons - I like the style, late 18th century designs have lots of straight pieces so they're relatively easy to build from stripwood, and the local library had a couple of books with scale drawings for Gustavian furniture...
---
The house
I was lucky to come across a house-shaped shadowbox with a suitable ceiling height for a 1:48 scale house (and it only cost me about $3). I removed a couple of dividing walls, and lowered a ceiling to form a habitable attic above.
A well-off widow lives here with a maid to look after the house. In the upper-class homes of the 18th century, the kitchen was often placed in a separate house, in order to reduce the risk of fire, so the little extension would be perfect for a kitchen.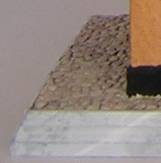 The Old Town in Stockholm has lots of stuccoed houses painted in various shades of ochre, with black metal roofs, and the stone base tarred black, so I settled on that look for the exterior. Later, I've read that the ochre wall finish was introduced in the 19th century, so I seem to have made an anachronistic choice... a lighter yellow suggesting sandstone would've been more correct.
I covered the base of the house with cobblestone streets (made from PaperClay), and finished the edges with mitered molding that I faux marbled.
Gustavian style
The style is named after the king Gustav III of Sweden, who ascended the throne in 1771 and was very much involved in the arts until he was murdered in 1792. He had a special interest in the classical era, which was all the rage at the time. The Gustavian style reflects this, drawing closely on the contemporary French Louis XVI style and also on British late Georgian style.
If you look only at the very top notch furniture and interiors, the relationship with the Louis XVI style is obvious. But, if you instead look at the furniture made for e.g. parsonages, smaller manor houses, or for town people, there's a simplification of the style that makes it uniquely Swedish, and that's what people mean most of the time when talking about Gustavian style. Most furniture is made from native softwood, painted rather than gilded or polished, and the fabrics are often linen with plain woven checks or stripes. The floors' wide deal boards are pale from frequent scrubbing. The overall impression is light and airy. In my opinion, it's still as elegant as the Louis XIV style, though infinitely more timeless due to its clean lines and comfortable atmosphere. You could say the recent Shabby Chic style draws on similar ideas.
In general, Gustavian style was an upper class and town phenomenon. Fashionable styles often had some impact on vernacular furniture too, but it could be slow and random, and the end result would often be heavily mixed up with older style influences and local tradition.
When it comes to archiecture, one doesn't really talk about Gustavian architecture as a particular style. There was an ongoing trend towards more classical design, but not any marked change in style that can be identified as specifically Gustavian (I think the changing style influences are often more apparent in clothes, furniture, and other items that are easily updated or replaced, than in large projects like housebuilding).
Gustavian furniture
Usually built from local softwood, it was often painted pearl grey, or sometimes light ochre yellow or other colors. In the 1790's, mahogany color paint was often used to imitate hardwood (at that point, much of the inspiration came from England rather than France). In many beautiful interiors, the fabrics are linen woven checks or stripes in white and a color, like the gingham shown in the bedroom of this house. The Swedish artist Carl Larsson was much inspired by the simplicity of the Gustavian style, in designing his own home, and Gustavian style is still considered a classic in Sweden.
My miniature furniture in this house is based on drawings or photos of actual 18th century furniture used in Sweden. Mostly Gustavian, but also some slighly earlier designs, and some provincial furniture in the lesser rooms. All furniture is "non-working" (doors, drawers etc) unless otherwise noted!
Kitchen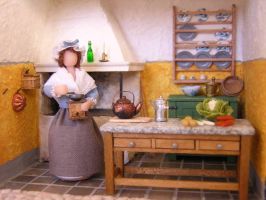 The fireplace with its raised hearth is of a type that was very common in Sweden, until cast-iron stoves got popular in the mid-19th century. Similar fireplaces were used in Germany.
Accessories like the salt box, candlestick, silver and copper coffee pots, mortar, sieve, and cutting board, are based on paintings etc from the Gustavian era. Pewter plates were still very much in use at this time, they're made from metal foil from a wine bottle. The china plates are punched out from a sheet of 1:12 scale printed Dutch tiles. I made the vegetables after Angie Scarr's 1:12 scale Fimo instructions.
The maid's room
Sadly, the maid has to live in the attic and has to make do with rather worn furniture, and her room isn't very cheery. The bed is based on examples of peasants' furniture. Such beds are designed to be dismantleable, and are held together with four wedges.
A chamber candlestick sits on the chest. In peasant homes, each grown-up family member had a chest of their own, often all placed together in the attic or in a special storage room. Once you got a chest (if you were a girl it was probably built by a family member or sweetheart), you kept your clothes and other personal belongings in it, and brought it with you if you moved to another place. I've based the chest on a full-scale one that I have in my home (mine is probably from the mid-19th century, but I've seen similar-looking ones from the 18th century).
Chairs like this one trace their design origins back to the renaissance, but they were still very common in peasant homes in the 18th century. This type of chairs was actually used well into the 19th century. They were often painted brown with a black seat, appearantly to suggest hardwood with a leather seat.
Drawing room
This is the grandest room of the house. The chest of drawers has a faux painted marble top, and the mirror above it is made entirely from plastic parts for railroad modelling (built from Madelyn Cook's instructions for a 1/48th scale Federal mirror in Nutshell News, May 1993).
The sofa is a typical Swedish 18th century design. Next to it there's a tilt-top table, with "alder root veneer" top (faux painted). For some reason, these tables used to have a dark table base that contrasted with the light top.
The chandelier is painstakingly made from beads - it took me several evenings. I used thin metal wire, some chain, 15/0 seed beads, and the smallest bugle type beads I could find (Gütermann, 2×3 mm).
Candles in those days were yellowish as they were made from wax. There weren't any bright white candles until stearin was discovered around 1815.
Tiled stoves
The tiled stove (kakelugn in Swedish) traces its origin to Germany in the middle ages, and after a few centuries the ornamented tiles became its main characteristic. A very important improvement was made in 1767 - until then, the tiled stove had been a big empty shell, but now the Swedes Fabian Wrede och Carl Johan Cronstedt improved the tiled stove by leading the smoke through long flues winding up and down inside the stove. The flues were built from brick and any voids around the flues were filled in with bricks or clay. This allowed the stove to absorb and store as much heat as possible from the flue gas and made the stove about eight times as efficient as when the smoke went straight up the chimney.
Giuseppe Acerbi mentions tiled stoves in his book "Travels through Sweden, Finland and Lapland to the North Cape in the years 1798 and 1799". He says that surprisingly, he's suffered less from the cold in Stockholm than he usually does in his native Italy - thanks to the tiled stoves. (Quite impressive considering that winter temperatures in Stockholm are roughly 10° Celsius or 20 Fahrenheit lower than in Italy!)
Tiled stoves were the standard heating device in Swedish town homes from the mid 1700's up to the early 1900's, and there's been a tiled stove renaissance lately so now they're being produced again.
Dining room
During the Gustavian era, furniture was usually placed along the walls most of the time. The drop-leaf dinner tables and the chairs were set up in the center of the room at mealtime, and put back afterwards. In an American mini magazine I read an article about a model of George Washington's home Mount Vernon, and the article stated that George Washington liked to have all his furniture placed along the walls. Well, in the late 1700's, most fashionable people did, at least in Europe!
The slat backs on the chairs are a section of plastic balustrade for model railroad purposes. The rest is all wood.
I think this wallpaper is pretty amazing. It is the floor-to-chair-rail section of a 1/12th scale wallpaper, but the festoons are very much in scale.
Library
The ladder-back easy chair is today called a "Gripsholm chair" (after Gripsholm Castle, where the many preserved guest rooms furnished in the Gustavian era include such chairs). The little table is based on a Gustavian sewing table. The lady of the house is dressed according to the fashions of circa 1790.
The bookcases are an 18th century design too. If you look closely you'll see that the three bottom shelves are the deepest, and the upper shelves are more shallow. The shelves are spaced closer at the top, too. It makes sense to place the big and heavy books near the floor, I think.
When I started decorating this house, I was farily new to building miniatures, and today I'm not very happy about some of the details, like why I didn't mitre the corners of the wallpaper border I used in the library. But I've decided not to try to fix my old mistakes, otherwise this house will never be finished! By the way, the border is a narrow strip cut from a 1/12th scale wallpaper border.
Bedroom
Next to the the campaign bed there's a pot cupboard holding a chamber candlestick. The pot cupboard would've doubled as a washing stand and near the tiled stove there's a drying stand for the towel. The dressing table is lighted with two "pewter" candlesticks (my how-to is in the DIY section) and there are some "china" cosmetics jars (painted glass beads with sequin hole lids) by the mirror.
In the 18th century, wardrobes didn't have a rod for clothes hangers. Instead, they had hooks or knobs inside, for hanging the clothes on. There ought to be a chest of drawers too in a bedroom, but I guess it's on the "missing wall"!
Wall treatments featuring white "panels" on a colored (often blue) wall were very popular in the Gustavian era, and they were usually decorated with some kind of painted festoons, though mine are overly dense and don't capture the elegance that they usually possess.
Guest room
The extra bedroom, in the attic of the main building, is the only room that isn't quite finished. It's hard to furnish a room that hardly has any walls at all!
Plain tiled stoves with green glaze are typical for the 18th century, especially in less important rooms.
Gustavian bed
This bed is the only "working" piece of furniture in the house. Beds that got their full width through sliding out the front section were introduced during the Gustavian era, and people started refering to beds of this construction as "Gustavian beds", whether they were of a Gustavian design or not! (Though this one is definitely Gustavian in both senses of the word.)

I couldn't bring myself to put bedding in the bed, as I wouldn't be able to slide it in and out then. I love it when a small-scale miniature "works"!
Recommended reading
If you'd like to read more about full-scale Gustavian design, check out my list of resources on the FAQ page.