1:48 scale London street life
Over time, I've made some "outdoor" miniatures that are more or less British, but currently don't belong in any setting, so I chose to put them all on this page.
Several of them are based on 1:12 (1") scale how-to's in the The Dolls' House Magazine, a British publication that often has nice and somewhat unusual projects. Others are my own designs, based on historical information I've found online.
---
Shop fronts
| | |
| --- | --- |
| | |
| Late Georgian shop front | Early Victorian shop front |
| (Circa 1800, but with later text on the signs...). My how-to's for it were printed in LEN volume 6, issue 6. Since I made it, I've had second thoughts about the door. I suspect that a panelled door would've been a better choice. | (Mid-19th century, but the sign must've been painted in the 20th century!). For the photo, I temporarily placed it in front of my glass-front Bridal Shop. My how-to's for it were printed in LEN volume 7, issue 2. |
Peddler or pedlar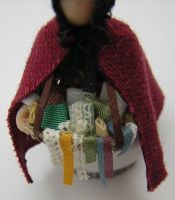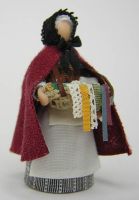 She's selling ribbons, lace and fabrics. I scaled down her clothes from a 1:12 scale pedlar project in The Dolls' House Magazine #80.
I understand peddler dolls are popular, but still I've never seen a specific date for when their real-life models could be seen. Based on this one's dress, I imagine she's supposed to be a mid-19th century woman, i.e. early Victorian.
Pillar box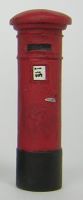 Cylinder shape pillar boxes were introduced in 1879.
When I wanted to make a pillar box and started looking for facts about them, I found a terrific website that covers the history of British letter boxes. That site even specifies the height and diameter of various models of pillar boxes, so I knew I got the size perfectly right. Isn't it amazing how miniaturists can benefit from other people's (equally) unusual interests!
Hot potato cart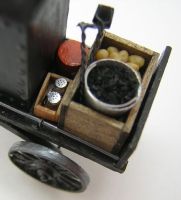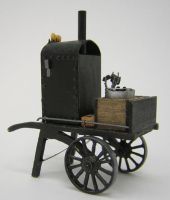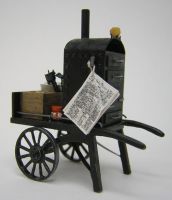 I scaled it down from 1:12 project in The Dolls' House Magazine #48. Note how the spikes on top above the oven are used for keeping hot potatoes, ready to sell! I used bought metal wheels for this cart and the chimney sweep cart below.

The project creator, Doug Ware, says jacket potato carts were popular in the earlier part of the 20th century and disappeared at the beginning of World War Two.
The project directions listed all the accessories that go with a potato cart - potatoes, a bucket of coal, salt, pepper, knife, butter pot, shovel, poker and ash rake.
Chimney sweep cart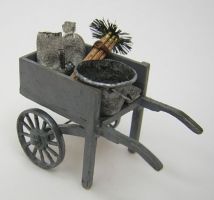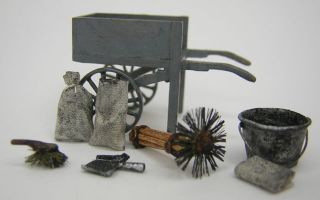 Originally another 1:12 project by Doug Ware, in The Dolls' House Magazine #47.
The sweep needs a a cloth to cover the fireplace opening to protect the room from soot, a brush with several rods to reach all of the flue, a big bucket for the soot, a small brush and shovel, and some sacks for transporting all the soot.