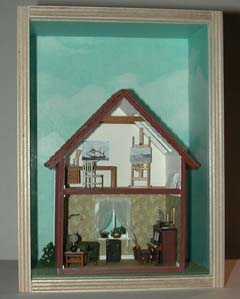 1:48 scale hobby rooms
Some of my colleagues have been fascinated by my miniatures, and as a result I've made a couple of roomboxes for gifts.
---
One person, lots of hobbies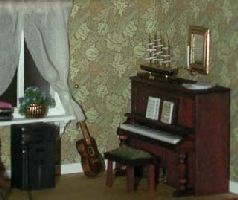 The wallpaper is a ½" scale design from Brodnax prints. In furnishing the roombox, I used a number of items I already had lying around; e.g. the Arts & Crafts style side table was a leftover from the English cottage living room, where I only could use one of the pair.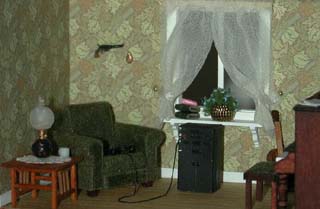 The stereo unit is actually a printable, but I painted it for added realism. Piano and model ship are reduced from 1" scale instructions in Dollshouse World magazine. Sheet music is scanned and reduced from full-size. The guitar is shaped from a solid piece of wood, with the sound hole drilled part-way through it.

Black powder gun and powder flask. The gun was made from wood, card, and plastic rodding. I used snippets of paper for triggerguard and hammer, and grains of craft sand for suggesting trigger and sight. The gun is a Colt Walker revolver designed in 1846, an unusually large and heavy gun, so its size made it slightly easier to reproduce in miniature. Still, in 1/4" scale it's only about 5/16 long.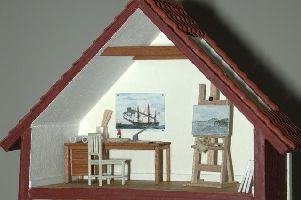 On the upper floor, there's a studio for painting and model ship building. The timeless slat-back chair was a prototype for the ones I made for my Gustavian house drawing room. I originally intended the H-frame easel for an attic studio in a cottage that is still (2010) in the works, but found it was too tall to fit that room so I used it here instead (I built it from instructions in LEN volume 5, issue 1).
On the desk, I put rolled up "drawings", stripwood, a bottle of glue, etc.
The "house" is encased in a shadowbox for protection. (Winter 2001.)
Gift to a gun-owner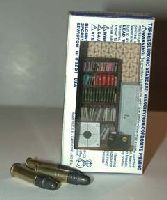 This box originally held 50 rounds of the .22 pistol cartridges shown. There's a replica of his own brief-case, a gun safe, and a target from a shooting contest.
The bookshelf is filled with books and LP records.
There's a clear plastic front on the box, causeing the interior to appear slightly blurred. (Winter 2000.)