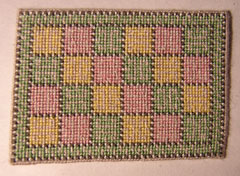 1:48 scale 'Ursula' rug, designed in Sweden 1935
Needlepoint design by Anna-Carin Betzén, based on a full-scale rug
Märta Måås-Fjetterström (1873-1941) was a famous Swedish textile designer. She created this rug design, named 'Ursula', in 1935. Her intricately patterned rugs were hand made by weavers at her studio so they were very expensive. Her artistic estate is managed by the studio MMF AB, still producing textiles from her designs using the traditional techniques.
After stitching the rug shown in the photo, several years later I discovered that I'd based my color choices on a rug that was noticably faded and possibly dirty, obscuring the detail. So, I changed some of the shades in the chart for a crisper look that's closer to that of the original rug. I may have to stitch myself a new one someday. Until then, the thumbnail to the right gives a more accurate impression of the rug's updated, true to the original, color scheme.
---
If your computer says it can't open PDF files, you need to download and install the free viewer Adobe Acrobat® Reader.
The needlepoint charts index provides an overview of all my free charts. You might find my silk gauze hints helpful. Also, if you'd like to fringe the rug, check out my step-by-step how-to on fringing methods.
---
© Copyright Anna-Carin Betzén. You're welcome to print the instructions or link to them, but do not copy them to repost elsewhere. This is a free project, not to be taught for profit.