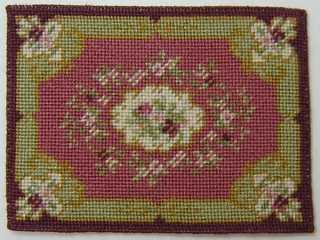 1:48 scale Savonnerie rug, circa 1850
Needlepoint design by Anna-Carin Betzén, based on a full-scale rug
This rug is stitched with DMC floss on 48 count silk gauze, and measures 36×49 mm (1 1/2"×1 7/8"), a small size for a Savonnerie rug. On a smaller count, you could use it in 1:144 scale too.
"Savonnerie" doesn't denote a style, but rather a knotted pile carpet made in the Savonnerie manufactury in France, or in a broader sense, a knotted pile carpet with a European/Western design. The Savonnerie manufactury was founded near Paris in 1615, in a former soap factory (French savon). It became the most prestigeous knotted pile carpet factory in Europe. From what I've seen, Savonneries don't have fringe.
---
If your computer says it can't open PDF files, you need to download and install the free viewer Adobe Acrobat® Reader.
The needlepoint charts index provides an overview of all my free charts. You might find my silk gauze hints helpful.
---
© Copyright Anna-Carin Betzén. You're welcome to print the instructions or link to them, but do not copy them to repost elsewhere. This is a free project, not to be taught for profit.