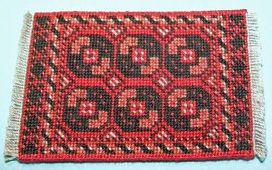 1:48 scale Afghan rug, circa 1900
Needlepoint design by Anna-Carin Betzén, based on a full-scale rug
Some years ago, I submitted this chart for publication in Little Enough News, but the newsletter was discontinued soon after so the chart hasn't been published until now.
Stitched with DMC floss on 48 count silk gauze, the rug measures 26×39 mm (1"×1 1/2"), plus fringe. Add repeats to make a larger rug; the the field has an 18×18 stitch repeat, so each extra repeat adds about 10 mm (3/8") if you stitch on 48 count gauze. The borders at the ends match the repeat of the field, so if you enlarge the rug you just need to remember that the borders on the long sides have to be stitched from one end to the other.
Please note: I wasn't quite happy with the shade of red used for the rug in the pic, and I'm working on a new one using a different shade of red. The charts use the new shade I picked, and I'll replace the photo once my new rug is finished. Of course, with a design using contrasting colors like this, it's easy to substitute the shades you prefer.
---
If your computer says it can't open PDF files, you need to download and install the free viewer Adobe Acrobat® Reader.
The needlepoint charts index provides an overview of all my free charts. You might find my silk gauze hints helpful. Also, if you'd like to fringe the rug, check out my step-by-step how-to on fringing methods.
---
© Copyright Anna-Carin Betzén 2011. You're welcome to print the instructions or link to them, but do not copy them to repost elsewhere. This is a free project, not to be taught for profit.