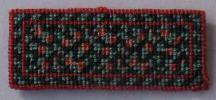 1:144 scale Georgian rug
Needlepoint design by Anna-Carin Betzén, based on a based on rug in a 1782 English painting
The color scheme of my Georgian townhouse drawing room is influenced by the 1782 painting "Mrs Congrave and her children", by Philip Reinagle (British painter, 1749-1833). So, I wanted to make a rug for it based on the painting. I had to make it very narrow in order to fit in the shallow room, but the rug in the painting is probably square.

The chart is for a square rug. Add or skip stitches to alter the size, but take care to make the border symmetrical; then start at one corner of the field and follow the chart to fill it (the pattern has a 16 stitch repeat, so you can enlarge the size just as easily as reducing it). When stitching the field of an resized rug, substitute green each time a red stitch (i.e. flower) would fall next to the red border.
When I first stitched this rug I wasn't happy with the color shades I'd picked, so I used that one for a wall hanging in my 1:144 scale English cottage's dining room, and stitched a new one for the Georgian townhouse. I used 64 count silk gauze, and Gütermann's silk sewing thread with one of the three plies removed.
---
If your computer says it can't open PDF files, you need to download and install the free viewer Adobe Acrobat® Reader.
The needlepoint charts index provides an overview of all my free charts. You might find my silk gauze hints helpful. Also, if you'd like to fringe the rug, check out my step-by-step how-to on fringing methods.
---
© Copyright Anna-Carin Betzén. You're welcome to print the instructions or link to them, but do not copy them to repost elsewhere. This is a free project, not to be taught for profit.