1:144 scale English cottage
If this cottage was a real house, it would belong to a present-day city couple, who wanted a quiet place in the countryside where they could wind down.
They chose to furnish it with newly made Tudor style furniture, just because they liked the style and felt it matched the half-timbered house.
You might call it "Contemporary Tudor", as they've used Tudor style furniture but arranged them according to their own preferences, disregarding how they would've been used in Tudor times, or what types of furniture would've been historically appropriate for a tiny cottage.
---
Cottage
I built it in 2003, in an online class which the late Frances Armstrong held in the MicroMinis group at Yahoo!, teaching her method for making the half-timbered walls and the sandwiched wall construction (the class is still available in the MicroMinisClassroom group files). Instead of using clear plastic for windows, I used netting for a leaded window look (painted grey and with clear-drying glue for panes).
Brian Long's book "The Authentic Tudor & Stuart Dolls' House" gave me loads of inspiration for furniture. It's a superb resource, and I strongly recommend it to any miniaturist interested in that period. He's also written a similar book about the Georgian era. In 2009 I came up with some Tudor furniture classes for the MicroMinis Convention, and furnished and landscaped my cottage.
Garden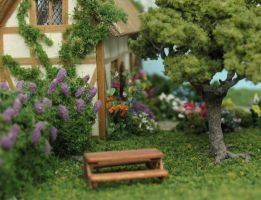 The plants include hollyhocks, crown imperial lily, lavender, peonies, lupines, some other nondescript flowers, lilacs, and clematis climbing onto the roof. The table and benches is a finished piece by Diane K. Fee, which I was thrilled to recieve in my convention package - it was just what I needed for the garden!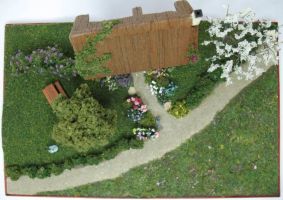 The blooming tree, which my then six year old nephew proclaimed to be a cherry tree, started out as a kit that Sue in Oz, Australia, had kindly created and donated for inclusion in the convention packages. The kit was for a tree with leaves rather than flowers, so I substituted some floral foam I had for the fibres and scatter material included in the kit.
The magpie at the bird bath is made from two tiny nohole beads - one for the head, and a malformed oval one for the body. I made the tail from a snippet of paper.
Dining room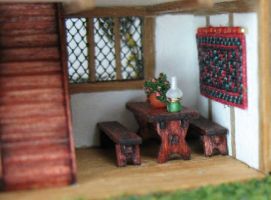 The table and benches are found in the DIY section, as is the chart for the tapestry - it's the same design as the Georgian rug in my Georgian town house. I hung it from a bit of metal wire, by folding narrow snippets of silk fabric over the wire and gluing them to the back of the tapestry (before cutting the silk into strips, prepare it with glue as described on my fabric hints page).
My easy way of making the staircase is described in LEN volume 6, issue 5.
Kitchen
This couple would much rather go to a nearby pub or inn than spend time cooking, so the Victorian range (a how-to by Frances Armstrong, posted in the MicroMinis group) is rarely used. But they have a coffee maker which they use for making tea (as my parents do); it's a scaled down version of Pam Scott's 1:48 scale coffee maker in LEN volume 4, issue 3.
There's also a small fridge for milk, butter, marmalade, and other neccessities. The kitchen counter is a Tudor dresser, and above it is a livery (or dole) cupboard for storing food out of reach for vermin (both based on pics in Brian Long's book).
A small table by the window holds water for washing your hands (neither a well nor a loo is included in my miniature setting, but they should to be somewhere in the vicinity of the house - hopefully at a hygienic distance from each other!). In a corner by the fireplace is a stool, a bed-warming pan, and a broom. The "electric" lamp is made from a cut-off pin and some transluscent Fimo.
Living room
Above the dining room is the living room. The Knole settee is contemporary; not a Tudor style piece. Brian Long says these are largely based on a Mediterranean version, and were not in everyday use in the UK until circa 1900 (the original Knole Settee of the 17th century has a different look and construction).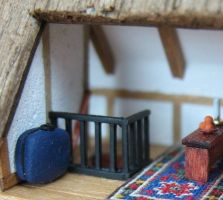 A Tudor chest serves as a coffee table. The chest how-to and rug chart are found in the DIY section. There's no lamp, just a candle made from a cut-off pin.
The blue suitcase by the staircase is made from Fimo, some black sewing thread, and a bit of wire.
Bedroom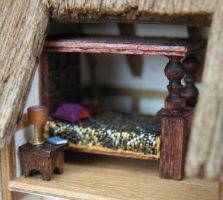 They really wanted an impressive Tudor bed, but once it was set up in the bedroom they realized that maybe it was on the big side for that small room... They decided to keep it anyway, and so be it.
The stools used for bedside tables are found in the DIY section. The lamps are simply cut-off pins with Delica beads for shades.