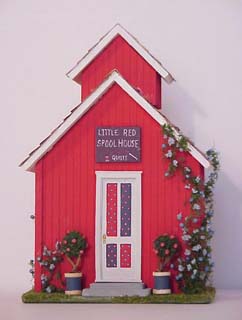 1:48 scale quilt shop
Pam Scott turned one of Debbie Young's kits into this unique quilt shop, and I won it in a Little Enough News contest.
The shop was finished inside and out, I only had to add furniture! I'm especially fond of the door with its painted fabric-like pattern. Note that the topiaries are planted in spools!
---
Little Red Spoolhouse - Quilt Shop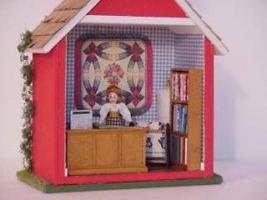 I think Mindy Skelton's doll looks just right in the quilt shop. The doll was included in the prize along with the quilt stand and quilt on it, and the quilt hanging on the wall. The quilts are printed paper, not fabric.
The proprietor is ready to measure up some fabric with her tiny yard stick. I made the cash register according to directions in LEN volume1, issue 2.
I used solids and the tiniest prints I had in my fabric stash for the bolts of fabric in the shelf. The roll of batting in the corner is made from full-scale cotton batting.