Swedish artist Carl Larsson is known and loved for his watercolors of his home and family, reproduced in book form in the early 1900s. He and his wife decorated their home in a personal style, influenced by Arts & Crafts, Art Nouveau, and Swedish folk art.
I wanted to create a roombox conveying the feeling of their home, and settled on the drawing room. The room is recognizeable through color scheme and all over design, yet when you compare it to the real room, the style of the furniture is a bit different.
---
My first project using BPF
The room is furnished with kitbashed BPF (Brown Plastic Furniture) throughout. My instructions for building the roombox, adapting the furniture, and making the plants, were published in Little Enough News.
One thing is definitely missing in this room, compared to the original - lots of small paintings and drawings hanging on the walls.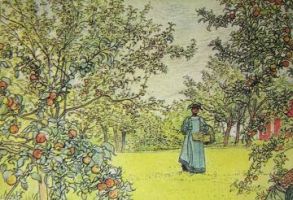 I covered the exterior of the box with postcards of a Carl Larsson painting (depicting his wife in the garden). This is what the top of the box looks like.