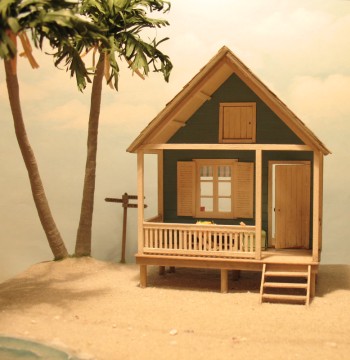 1:48 scale beach house
The late Pam Scott, editor of LEN magazine, also founded the LittleEnoughNews group at Yahoo. In 2012 Preble McDaniel designed a beach house for a group project in memory of Pam, and Karen Cary provided plans as well as kits based on Preble's design.
Mine is built from scratch, and as usual I made a few small changes to the design. Different window proportions, the porch roof is part of the main roof, porch railing added, and redesigned steps. Also, I made the pillars of the base round rather than square.
---
Beach house
Preble had designed a shelving unit to fit around the window of the house, but as I used a different window I needed to resize the shelving unit. By a funny coincidence, a while later NAME published photos of the upcoming 2012 NAME Day project, "The Alcove" which turned out to have exactly the proportions I needed. So I built this unit from the NAME photos, and actually based it on the 1:12 rather than 1:48 version, as the larger one had a little more detail.
Pam lived in Florida, she had been a serious shell collector for many years, and she often went to the nearby Sanibel Island to gather shells. All of the shells used in this scene were gathered at Sanibel island or Captiva island when I visited Pam in 2004.
The coat hanger by the door is inspired by Eames' Hang-It-All designed in 1953. The original design was larger and more complex, and had white wire and colorful balls, but I felt the room needed a bit of contrast to all the white surfaces so I painted mine black instead.
Likewise, I added the Breakfast at Tiffany's poster to the right wall, for a bit of color and contrast. It's a printie I got from Pam.
I used a picture frame from a kit to make the mirror. Unfortunately, I have no note of who made the kit.
A personal touch
I wanted to include as many references to Pam as I could, so of course there had to be a cat. There was this hilarious cat she'd given me many years ago, digging into a bag from "Minis R Us", but I've always pictured that cat in a miniaturist's studio, not in a beach house... To me, the obvious answer was to add some miniatures to the room, and leave the door ajar so the cat could sneak in.
I settled on making a 1:48 scale version of Pam's 1:48 scale Florida Art Deco structure "The Palms", which she'd published instructions and plans for in LEN (volume 3, issue 4). I thought other group members might want to make one too, for this project or as a dollhouse in some other scene, so I wrote a how-to for it that I posted in the group files. There are measurements for a few different scales - including a dollhouse for a 1:144 scale house (that is 33 % larger than this one!). A couple of other group members posted pics of mini houses they made from my instructions, so it's definitely doable.
On the shelf below the house, I put a magazine holder for LEN, and some boxes that might contain miniatures or craft supplies.
Attic
What would a shell collector keep in her attic, if not some shells? The crate labels are printies Pam made, for a swap I think. I put broken shells inside the crates, to fill them up, and added a couple of nicer ones at the top.
I made the beach umbrella from striped fabric. For some reason, I've never worked up the courage to try printing on fabric.
The walls and ceiling are braced to make it look like a proper attic. All parts got a dirty wash before I glued them together (it would've been easier to do it afterwards, but then any glue spots would show).
Porch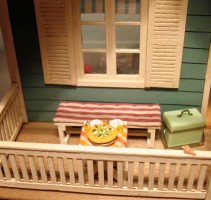 On the porch, the table is set for a delicious snack. Key Lime Pie by Marilyn Nielsen, who also made the glasses of lemonade. I made the retro style cool box from Fimo and metal strips.
The window is of a traditional Swedish type - not a first choice for a beach house in Florida, but I wanted to include a Swedish touch as Pam had Swedish roots. The shutters are scratch built from wood.
Landscaping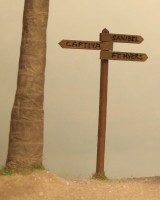 For the palm trees, I used part of Preble's palm tree how-to written for this project, part inspiration from an old palm tree kit Pam created, and also I looked a bit on on-line how-tos. I'm happy with the trunks (the finish is largely based on Preble's instructions), but I messed up the fronds by trying to save time... I folded paper so I could cut several fronds at the same time, but then I had to spend a lot of time disentangling them from each other, which made the fronds very ruffled. Maybe I should say that a really bad storm just passed by?
A signpost indicates that the beach house sits right where the islands of Sanibel and Captiva meet. The little strip of beach that joins the two islands together was Pam's favorite shelling spot.
Sand and sea
I base-coated all of the ground with a sandy color. Then I applied a coat of Scatter-Grip (by Deluxe Materials) and poured lots of sand (from Sanibel island) over it. When dry, I turned it upside down to remove excess sand, and gave it second coat of Scatter-Grip and sand.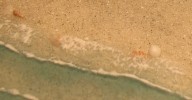 The water is Gallery Glass paint. I mixed a sea color, then used a tiny amount of it to tint clear paint. I applied it in several steps, to build up slight waves. Finally, I applied Aleene's True Snow to the crest of the waves, and sponged some onto the very edge of the water.