1:144 scale chocolaterie
I made this chocolaterie in 2005, as a Christmas gift for my friend Pam Scott, publisher of Little Enough News.
The structure is made from polymer clay. I rolled out some clay about 2.5 mm (3/32") thick, formed it around a block of balsa wood, hardened it in the oven and then pried out the balsa. Before furnishing it, I lined it with card; creased and folded into a little box that fit snugly.
---
Interior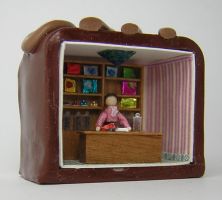 I used wallpaper and flooring by J. Hermes (see the Supply sources page. The lampshade is from a roundtable kit by Fran Sussman.
For the shelving and counter, I used cherry wood ordered from S.H. Goode & Sons.
The picture on the left wall is a reproduction of one of Monet's paintings from Giverny. It ties together the color scheme, and I think it adds to the setting's French touch.

Proprietor and stock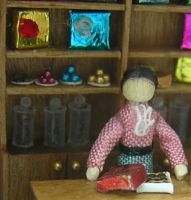 I filled the shelves with foil-covered blocks of wood for chocolate boxes (with snippets of bunka for bows). The candy jars don't show up very well, but they're made from plastic tubing and filled with "chocolate" (colored sand). There are some plates of "foil-wrapped chocolates" (metallic no-hole beads) too. Note the filled box of chocolates on the counter (I painted a piece of card in gold, then applied dots of chocolate-colored paint).
The doll behind the counter is made from a toothpick, with wire arms and viscose hair. She is dressed in silk fabrics.