Mogata church, where Vendela and Alfred Klingspor were married in 1869. Many Swedish churches date back to the middle ages, though they have been altered over the centuries. But some, like Mogata church, were torn down and rebuilt during the 19th century. It is in the neoclassical style, and was consecrated in 1844. It is built from stone and covered with stucco, like most traditional Swedish churches. The lower parts of the tower are remains of the original church, built in the 13th century.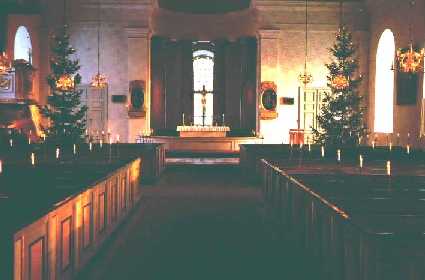 The interior of the church. The christening font (unfortunately not visible in the photo) is a medieval piece from the province of Gotland, where many big chunky christening fonts were cut from lokal stone and sold to churches throughout the country. This one is dated to the period of 1275 - 1324.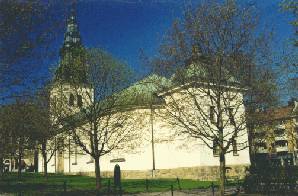 St. Lars' church in Linköping - Laura's sister Agnes Alfrida Petronella was baptized here as the family lived in this parish at the time of her birth. The oldest parts of this church are from the 12th century, but like many other medieval churches it underwent enormous changes during the the 19th century. It was had to give room for a growing congregation, the windows were enlarged to let in more light, and so on.