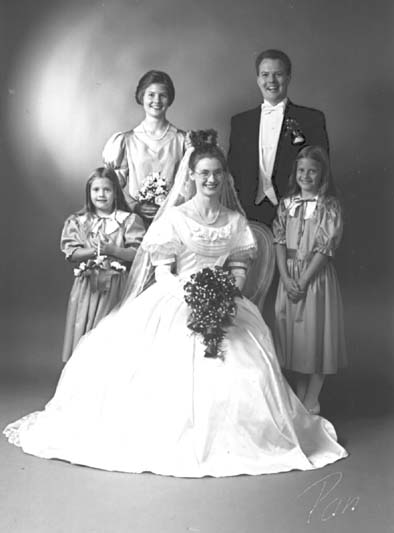 The research on these pages was done by me, Anna-Carin Betzén, with the help of my maternal grandmother, Anne-Marie Åhgren. She's been researching her own ancestors since the early 1970's so she's an experienced genealogist. In one case she's managed to trace her ancestors back to the late 16th century. It's usually not possible to get that far back in time, as there weren't any parish records until the late 17th century and many old parish archives have been ravaged by fire over the centuries.
Grandma nearly ended up in America. In fall 1923, before her birth, her father and uncle emigrated to the US due to extensive unemployment in Sweden. The pregnant wife was to follow as soon as their first child, my grandma, was born - they intended to leave Sweden for good. She arranged with passports for both of them, but then the papers wrote a lot about white-slave traffic and in the end she dared not go. Her husband returned after a couple of years, so they were reunited in Sweden. He later went to America again to work for a few more years, but didn't emigrate permanently. His brother married another Swedish emigrant and raised a family in the US.
I have a M.Sc. degree in Computer Science and Engineering, and am married since 1996. I've always been interested in old times and I find the detective work of genealogy quite fascinating. Crafts is another strong interest of mine; I've tried lots of textile crafts and have spent a year on a full-time education in dress making, hand weaving and bobbin lace-making. Over the years I've knitted, crocheted, made small patchwork quilts, sewn a lot of my own clothes including my wedding dress, but finally I got interested in dollhouse miniatures and now I consider it to be my main hobby. I've always been interested in how how people lived in the 18th and 19th century and I like to recreate these eras in miniature (preferably in 1/4" scale).
I find the detective work of genealogy quite fascinating. There's so much information hidden in the old records, just waiting to be found. You've probably noticed that I've added a diary to the web site so I can share some of my thoughts on the research.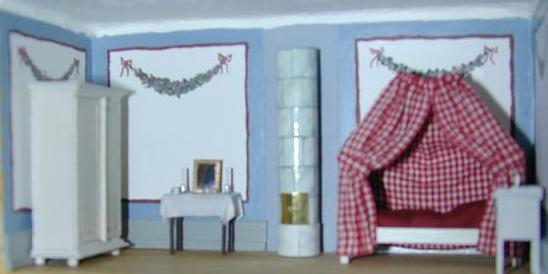 This is the bedroom of a late 18th century Swedish manor house bedroom that I'm working on. It's in 1/4" (1/48th) scale. More of my mini photos can be seen on the miniatures section of my web site.