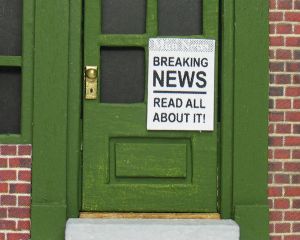 Personal news
Newsflashes don't really fit into the format of my site's start page, so I thought I'd better have a special page for them. As this page grows, I plan to remove older entries and incorporate them into the page About me.
The pic shows my Georgian shop front (how-to published in Little Enough News), with a newspaper placard added.
---
October 2013
Perhaps you're wondering why it's so quiet here...
Stress issues, perhaps in combination with my hypothyroidism, left me totally devoid of energy in the beginning of this year. I've been on sick leave since then, and still am. For some months I've been trying a combination treatment (part of the T4 replaced with T3) which gave me a little more energy during Summer.
Unfortunately, once the Autumn colds started, most of my energy disappeared again. Now I've learned that T3 often just gives temporary improvement. In late November I'll take new tests and an endocrinologist will look at them. Hopefully he can figure out what my problem is, and what to do about it.
October 2012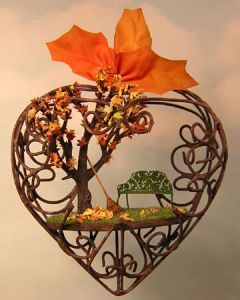 I can't believe it's been a whole six months since my previous site update! Summer went by quickly, with much more gardening than miniing. Our little boy really enjoyed the fruit and berries in our garden - wild strawberries, red currant, plums, and blackberries (especially the plums - he could eat any number of them). He's 18 months old now, and he spends a few hours a day in daycare as I'm working part time again. He seems to enjoy it, and eating with the other kids has worked wonders with his appetite.
Lately I've been working on some of my old miniature UFOs (Un-Finished Objects). It irritates me to have all these unfinished projects around, so I decided to finish some of them before I start a new project.
I'm attending an upholstery class like I did in the Spring, this time to fix up a Victorian sofa my grandmother left me. It's getting a general overhaul plus I'm making a slipcover for it - an interesting experience, as there isn't a single straight line on the sofa...
The Autumn scene I'm showing here is one of the seasonal scenes in ornaments that I made several years ago.
April 2012
Now he's walking! This afternoon, at 11 months and 18 days, our little boy started to walk on his own. He's taken a few steps at a time recently, but now he walks a few meters (or yards) at a time. He had excellent timing - my parents were actually here for tea when it happened.
My reupholstered chairs turned out great. I'm using them in my hobby/guest room now. Bit by bit, it's turning into the room I want.
It's our first Spring in the house. Flowers are popping up everywhere in the garden, and we've started thinking about what fruit trees and berry bushes we want.
March 2012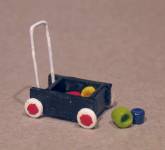 Our little boy is 10 months old. He likes walking with his pushcart, and loves it when we build towers with his nesting cups, for him to pull down. He's got four teeth now, and his appetite for real food is getting better.
I'm currently taking a class on traditional upholstery, so I've ripped out the seats and backs of two antique chairs that badly needed redoing. Now I'm building the seats up again, step by step, using traditional methods. I don't think I'll have any time for miniing until April, when the class is over, but it feels good to do something different for a change. I think upholstering may be a useful skill, if only in full scale!
November 2011
I noticed that this October, it's been 10 years since I launched my original miniatures website!
Wish I'd thought of it in advance and made a celebratory update - but at least the current update is the biggest for some time!
Baby is nearly 7 months now. He's got two teeth, and can crawl backwards. He's exercising his voice too, and soon after he turned 6 months he started saying "mum" or "mem" repeatedly (I doubt he knows what it means yet!). We've introduced baby porridge now - he seems to like both porridge and purees, but still only eats a teaspoonful or two.
We sold our flat in October. It feels great to be able to concentrate on our house and not have to think of the flat anymore.
My hobby room was unusable for over a month recently, as we'd shoved my sewing machines and worktable against the wall to clear the floor so we could assemble an Ikea daybed that will double as a guest bed. Now that the daybed is finished at last, I've put all furniture back in its place again, and really enjoy spending time in my hobby room. Apart from working on some mini UFOs (Un-Finished Objects), I've also sewn covers for some throw pillows (a.k.a. cushions) for my daybed, using fabrics in my stash.
September 2011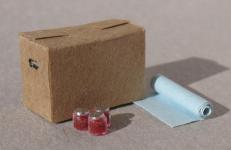 Moving, renovating, and fixing up the flat for selling is slow work with a baby around. He's a darling - smiling, chubby, and loves attention. He keeps us very busy as he wants to get around and see things much of the time; not just lie down and play with his toys... Now that he's turned four months he's trying veggie purees.
We haven't had time to tend the garden, other than mowing the lawn. But, as we now have a cherry tree, I've picked cherries and made cherry jam and cherry syrup.
Finding time for minis (or website updates...) is a challenge. So far, I've mostly done needlepoint, as it's so easy to pick up when I have a few spare minutes. Expect some more Stickley rug charts in the months to come. Also, I have ideas for some new tutorials that I hope to find the time to write, so do check back before Christmas.
June 2011
Our baby boy was born soon after the estimated due date. Everything went fine, his height and weight were about average and he was strong and healthy. He's growing quickly - at 1.5 months he already weighs 5.9 kg (13 lb) and measures 58.5 cm (23"). His hair is a reddish blonde color (not as bright color as the flocking I used for hair on my Fimo baby).
We've started to refinish some walls in our new house (hubby is doing the actual work so far - baby wants a lot of attention), and plan to move in in July.
April 2011
Baby was in breech position from about week 30 and on, but it was repositioned successfully in week 37. I stopped working before Easter, with two weeks left to the estimated due date in early May.
Recently we signed a contract on a house, and the deal will be closed in mid-June. I love getting a garden, and a hobby room of my own. Whether I'll have the time to enjoy either, is of course another matter!
At about 8 months pregnant, I made a self-portrait doll, shown to the right. I'd hoped to finish some mini UFOs before baby arrives, but found I had more baby preparations left to do than I thought, so I've only done a fraction of what I hoped mini-wise. Still, I've made some progress on a couple of projects. As to future site updates - well, I can't promise anything, though of course I hope I'll be able to keep updating my site once in a while.
March 2011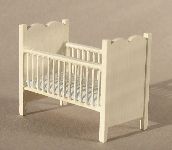 Guess why I'm including a photo of a crib? Hubby and I are having our first baby! So far, all tests have been fine and baby is growing at a normal rate. I feel tired but otherwise good. The expected date of delivery is early May.
This will of course be my most time consuming (and exciting!) mini project ever... Lately I've been sewing bedding for the bassinet, and I still have a lot of shopping left to do. Obviously, I have no idea how often I'll be able to update my site in the future.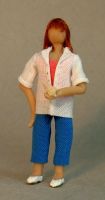 BTW, the crib is made from my own how-to in Little Enough News.
On a sad note, Pam Scott, former editor of the Little Enough News newsletter and a dear friend of mine, has passed away. We had been email penpals for the past 14 years. I've added an In Memoriam page to show off some photos of her creations.