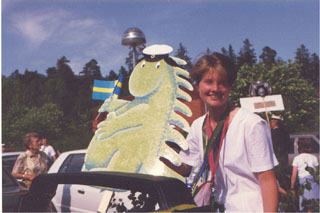 Dragons
As a child, my sister was nicknamed "the dragon" due to her hot temper. The name stuck longer than the temper, so she's got lots of little dragons over the years. Here's a couple of the dragons that I've contributed to her collection.
I've also made her a small polymer clay dragon, about 5 cm (2") tall, and a cross-stitched birthday card with a dragon, but unfortunately I have no photos of these.
---
The very first dragon
This is the first dragon I made. It's about 20 cm (8") tall. I found the pattern in a book of stuffed toys. Originally his color was a bright pea green, but it has faded over time from exposure to daylight.
As you can see, he's sort of a hippie, with long hair and a stuffed heart necklace. All other dragons I've made for my sister have been based on this style of dragon, though there've been some changes during the years (in particular, the nose has grown bigger).
Graduation dragon
I also made a dragon for my sister's senior high school graduation in 1997. At the graduation day, family members gather in the school yard to wait for the graduates. Each family usually brings a poster on a stick, so it'll be possible to locate one's family in the crowd. Most posters feature the graduate's name plus a childhood photo, but I thought a big dragon would be more appropriate.
She recognized the dragon at once, so even though there was another dragon to be seen in the school yard that day (because there was a student whose family name was based on the Swedish word for "dragon"), she was never in a doubt of which dragon was meant for her. The dragon wears a graduation cap, and he is holding a Swedish flag. In this pic, his long hair is falling down his back.