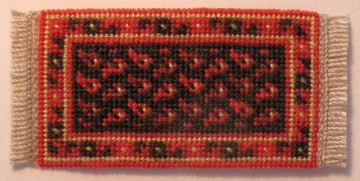 1:48 scale Baluch rug, circa 1800
Needlepoint design by Anna-Carin Betzén, based on a full-scale rug
I used as few stitches as I possibly could for this chart, as I based it on a rug that only measured 45×82 cm (18"×32"). Based on the size of the original, this little rug would be in perfect scale for 1:48 if stitched on 80 or 90 count! But don't let that put you off - this repeating boteh design would work in any size. Use your favorite count gauze (I used 48 count gauze as always) and you'll have a rug of a more useful size than the full-scale rug!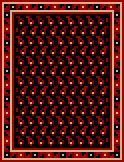 In addition to the small rug in the photo, I've charted a larger version with more repeats. But you can adjust the design to any size, and you don't need to re-chart it to do that! To enlarge it as you go, start stitching in the lower left corner of the chart and stitch the diagonal rows of same color boteh until the field is the size you want. Then stitch the border, adding or skipping repeats as needed, and fill the rest of the field with boteh shapes before stitching the background.



Maybe you've noticed that in old rugs, the color black is rarely a pure black; instead it tends towards blue or brown. The charts lists a choice of three different shades for the background - black, navy, or brown black. I used brown black for an aged look.
---
If your computer says it can't open PDF files, you need to download and install the free viewer Adobe Acrobat® Reader.
The needlepoint charts index provides an overview of all my free charts. You might find my silk gauze hints helpful. Also, if you'd like to fringe the rug, check out my step-by-step how-to on fringing methods.
---
© Copyright Anna-Carin Betzén 2012. You're welcome to print the instructions or link to them, but do not copy them to repost elsewhere. This is a free project, not to be taught for profit.