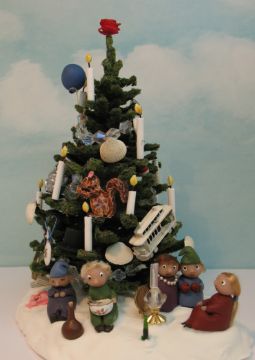 The fir tree - a Moomin story
"The fir tree" is the last story in Tales from Moominvalley, a book of short stories by Tove Jansson.
The Moomin family doesn't know anything about Christmas, as they hibernate through winter. But one year they're awoken from their sleep, and their neighbors throw them head over heels into Christmas preparations. They get it all wrong, to say the least, and yet so very right...
I made this scene as a joint project with my mini friend Marie. Our starting point was the book's illustration of the tree, with little Woodies sitting in front of it.
The tree is 10 cm (4") tall, including base. It's an appropriate size for my 1:48 scale Moomins, so I consider it 1:48 scale.
---
The story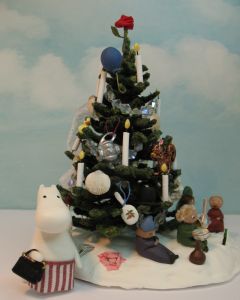 The hibernating family is woken up by a friend, who's irritated that they just sleep while he's terribly busy with Christmas preparations. The Moomins find Moomin Valley covered in snow, and their neighbors running around doing errands, all stressed out. From their comments, the family gathers that something called Christmas is coming. Bit by bit they learn that they must cut a fir tree, dress it with pretty things, and prepare food and gifts. Based on their neighbors' obvious stress and anxiety, they draw the conclusion that Christmas is something dangerous, and that you have offer these things to appease it.
When they're done, a shy little Woody brings all its friends and family to see the tree (the Woodies are described as small, grey, frozen, pitiful creatures). Seeing how the Woodies admire the tree and look longingly at the food and presents, the Moomins decide to take the risk and give it all to the Woodies ("if Christmas gets angry, maybe we can rescue ourselves on the porch"). The Woodies are overjoyed as they've never had a Christmas celebration of their own. Soon they're eating and drinking and opening gifts, having the time of their life.
Tree and ornaments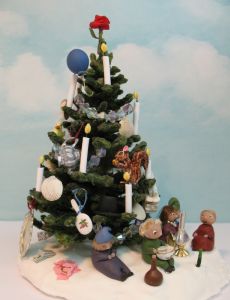 We made our trees from plain white pipe cleaners, and stained them with green wood stain after forming the branches. The stain is waterbased, but I sprayed my tree with a clear sealer that I hope will keep it from bleeding. The tree sits on an oval wood base, covered with Aleene's True Snow.
I sculpted Woodies for us both, which we painted in our chosen colors. They're sitting around a paraffin lamp made of beads and findings (in the book it's evening, the illustration showing a starry sky, but I used a blue sky for better contrast).
As the tree definitely had candles, not light bulbs, I came up with a way of making candles with flames.
We tried to include as many as possible of the ornaments that were shown in the illustration or mentioned in the text - the rose tree topper, sea shells and candles, chandelier prism chains, balloon, tea pot, hand mirror, top hat, fishing float, necklace, and curtain. Then we filled in with other accessories, mostly painted metal minis, to fit the whimsical theme. The tram alludes to a meerschaum ornament that is mentioned in some of the books.
Food and gifts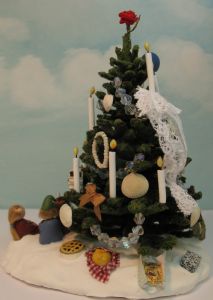 The book doesn't say much about the food, it just lists blueberry pie, lemonade, soured whole milk, egg nogg, "and other things the family liked". I'm letting the pie and a pretty loaf of bread symbolize the food, along with the two bottles. One of the Woodies is eating from a bowl, like in the illustration.
The family's gifts included a book (the only one with color illustration in the whole valley), Moominpappa's best trolling spoon in its pretty box, and Snork Maiden's foot ring.
If you can find the book at all, do read this short story in its entirety! It really makes you reflect on what Christmas is not about, and makes the best antidote against Christmas stress I've ever seen.