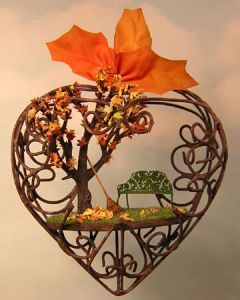 1:48 scale scenes in hearts
I found some three-dimensional ornamental wire hearts on a sale and realized that if I cut away a few of the wires I could put little scenes in them.
In order to get a level surface inside, I experimented with thin card until I found the right shape and size, and could cut a plywood base that would fit.
Before fixing the plywood base, I added grass or flooring and e.g. drilled a hole to take the tree. The rest was added once the base was in place.
---
Spring/Summer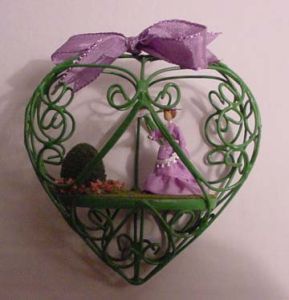 I originally intended to hang this heart as a quickie ornament to put on the door of our flat, but I realized something might happen to it so I decided not to.
The lady's dress looks kind of Victorian but it's hardly historically correct... she was just intended to look pretty and I didn't have any reference books at hand.
Autumn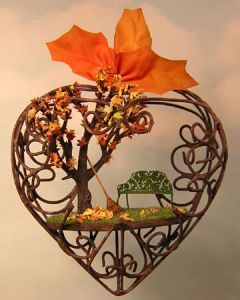 As I'm very fond of the bright colors of Autumn, I've long been thinking about doing some kind of Autumn scene. In October 2003, I realized that the curlicues of the wire hearts reminded me of tree branches and decided to get started on my scene. The tree itself is a Woodland Scenics tree frame that I repainted, along with the wire heart. The color turned out a little too pale, so I applied a black wash all over to darken it. This also emphasized the structure of the the tree bark.
For the leaves, I painted a piece of tissue paper and then punched out hundreds of leaves that I glued on individually. The garden bench comes from a sheet of photo-etched brass miniature furniture that I ordered somewhere long ago. The rake is based on a 1" scale pattern in Dollhouse Miniatures (November 2003).
Winter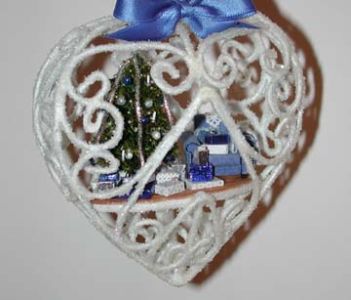 A Winter heart. The heart is painted white and covered with sparkling model railroad snow (which seems to be a mix of shredded clear plastic and ultra-fine glitter).
Unfortunately, it's hard to take photos as the front part the heart obscures the interior... it looks better in real life! The Christmas tree is based on a brush style tree, and I glued pieces of lycopodium into it. It is decorated with big blue metallic balls, big iridiscent balls and three sizes of silver balls.