Old-time Christmas market
My aunt had bought a resin market stall and added some china figurines to create a small Christmas market scene. She wanted to extend her Christmas market scene beyond the single stall she had, so I made her two stalls for Christmas and accessorized them with things you might find on an old-fashioned market.
Next, I started making her some facades in traditional Swedish style, to form a backdrop for the market.
---
Market stalls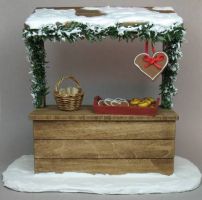 The scale is approximately 1:18 heightwise, but as my aunt's china figurines for her scene have child-like proportions, I wanted the accessories and wood dimensions to be a little oversized; probably closer to 1:12. I built the stalls from scratch, sealed the surface of the wood with Danish oil, and aged them with FolkArt Antiquing medium. The snow is Aleene's True Snow with some fine glitter sprinkled on.
Saffron buns and gingerbread are a must for Advent and Christmas in Sweden. I made mine from Fimo and put them in a bought tray that I'd painted.
The ready-bought basket (aged with FolkArt Antiquing medium) contains brown paper cones filled with sweets. I sharpened a wooden dowel in a pencil sharpener, and cut squares of thin brown paper that I wrapped around the pointed end of the dowel and glued the overlapping flap in place before sliding them off the dowel. A pencil works too, but a dowel doesn't leave pencil marks all over... Then I filled the cones with large no-hole beads, pushing in the top and gluing it closed.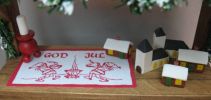 This type of candlestick has been popular for Christmas in Swedish homes for about 100 years. I made mine from wooden beads, the candle is Fimo. The houses and churches are made entirely from Fimo. The Christmas sampler is 1:12 scale, screen-printed on fabric by a friend who runs a Swedish mini store, Skala Minimal.

Facades
After making the stalls, I suggested some facades would look nice as a backdrop, and my aunt really liked the idea.
I decided to make them 1:24 scale (25% smaller scale than the stands), for forced perspective. Also, I could get pre-cut plywood pieces in suitable 20×25 and 20×30 cm sizes (8"×10" and 8"×12") from a local hobby lumber supplier, Svensk Modellproduktion.

I braced the ready-cut pieces with basswood to prevent warping, and embellished the front with panelling, pilasters, windows, etc. My DIY instructions for building facades like these were then printed in the Swedish magazine Miniatyrvärlden (issue 2 and 3, 2009).
These are middle class houses from some small town in late 19th century Sweden. The houses would originally have been built in the 2nd half of the 18th century. The yellow house has a fire mark from the Swedish fire insurance company (founded in 1828). The red house serves as a post office. The design of the post box dates to 1880, and the enamel sign to 1892 (I made the box and sign from wood and thin plywood).
Red paint was used on wooden buildings in Sweden from the 17th century and on. It first was used on high-status buildings, to give the impression of red brick when seen from a distance. Around the mid-18th century, light-colored oil-based paints became fashionable - especially a light yellow combined with pale grey trim (colors inspired by French sandstone with limestone accents). Red paint continued to be used on outhouses and less prestigeous buildings, and eventually spread to farms etc, that had previously been a natural weathered grey.
The next year, I decided to build a town schoolhouse, inspired by the school in the open-air museum of Linköping, Sweden (the actual house is twice as long as my design, having a total of eleven windows on the street facade).
The present look of the facade dates to around 1870 - again, this is an 18th century wooden building, but over the years it was eventually rendered, got a new gate, and a new color scheme. Originally a private home, it was eventually turned into a school. An 1842 law made primary education mandatory (from around 1700 to the 1840s, only learning to read was compulsory; in these early times, tutoring was often private but the parishioners' reading skills and grasp of Holy Scripture were checked yearly by the pastor).
I took this photo of my aunt's market scene last year, before I had made the schoolhouse. All the little china figurines really brought the scene to life, and there's a lit tree in the middle of the square.
The Christmas tree is 1:12 scale, so it looks slightly oversized like a proper outdoor tree, compared to the smaller-scale figurines and stands. I put miniature tree lights in before applying Aleene's True Snow and fine glitter. It runs on a battery pack.