1:144 scale bedroom
The unfinished shell was sold as a roundtable kit at NAME's Small Scales Houseparty in 2005. It's made by Hanson's Cascade Miniatures and I got it from my friend Marilyn who attended the houseparty. Here it's shown complete with plastic front and removable top.
---
Instant inspiration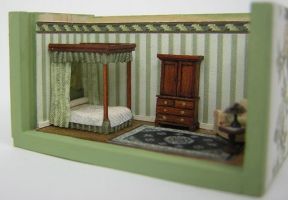 When I saw the green striped wallpaper that was included, I knew at once how to furnish the room - it was just the right setting for my Georgian fourposter bed. I finished the exterior with paint and a bit of a 1:12 scale MiniGraphics wallpaper. The printed paper rug was a part of the kit (there were other items included too, that I decided not to use).
The Georgian bed and clothes press, and the modern chair, are all built from my free how-to instructions. I "hand turned" the table base from a bit of walnut stripwood and glued on a top made from walnut veneer.
The lampshade is from a roundtable kit by Fran Sussman. Of course I had to put a book on the table by the lamp - books seem to find their way into most of my scenes.